Hazel is also in demand internationally as a player of the vielle or medieval fiddle, working with groups across Europe and in USA, and has established a reputation for her sensitive vocal accompaniments and imaginative improvisations.
'Hazel Brooks was especially captivating', Boston Globe USA
'Hazel Brooks's piquant vielle provides atmospheric accompaniments that perfectly enhance all these moods, as well as some delightful dances', The Daily Telegraph
'Hazel Brooks's accompaniments lift the vielle, a rustic lyre, to an instrument of enchantment', The Times
'sensitive playing on the vielle', International Record Review
---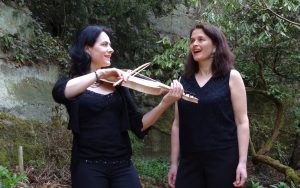 Hazel set up duo Trobairitz with soprano Faye Newton, to explore the courtly repertoire of the troubadours and trouveres. They seek to interpret the music in a way that is true to its historical roots whilst remaining meaningful for a modern-day audience.  After an acclaimed international debut as part of the Antwerp Festival 2000, the duo has appeared in major European festivals and concert halls and been broadcast worldwide.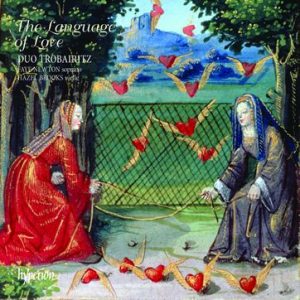 Their CD The Language of Love, released on the Hyperion label, was American Record Guide choice of 2007.
'With these artists time stands still', The Times
---
Hazel was also a founder member of the award-winning group Concanentes, who burst onto the early music scene as finalists in the York Early Music Young Artists' Competition, and went on to perform internationally. After studying in France with Shira Kammen, Anne Azema and Joel Cohen, Hazel became a regular member of the Boston Camerata (USA) for eight years.
---
She has also appeared with the ensembles Trist'Alegre (Netherlands), Ensemble Aziman (France), Ordo Virtutum (Germany), Artemision Ensemble (Germany), Circa 1500 (UK), New London Consort, and the Camerata Mediterranea, a crossover project involving Western and Moroccan musicians to recreate the music of medieval Spain.
---
One of very few vielle tutors in the UK, Hazel teaches individually as well as coaching ensembles. Amongst others, she has led workshops at GSMD, for Early Music West Midlands, and Aust Music, with topics covered including modal improvisation, vocal accompaniment, early notation and general technique.  Hazel can also coach singers in pronunciation of medieval languages, text setting and rhetorical expression.